You will be forgiven for thinking the only music acts produced on the Emerald shores have been Westlife and an endless list of Eurovision contestants. Despite its recent cultural renovation, Ireland is unfortunately still viewed by outside lenses as the land of white leprechauns. A reason for this may be the lack of spotlight shone on its musical movement by international platforms, so we have decided to change this.
Personally as a Black Irish woman, I am enjoying watching the multicultural renaissance back home. Like many of my minority pals, we often felt invisible in Éire (Irish for Ireland). The representation of Black Irish people was slim to none. We had Phil Lynott and Samantha Mumba but they were not enough and often us Irish Black Folks had to look over to our UK cousins for an inkling of what Black Expression in Europe could look and feel like.
Thus, watching the Irish Rap and R&B scene finally sprout and grow its roots has been a beautiful sight to see. The women in particular, are leading the Pop and R&B genre with full force.
The visibility of these ladies reflect a new expression of Irish Femininity. IndustryMe has compiled a list of top Irish R&B/Soul/Pop female artists we believe are making waves in the scene.
Denise Chaila
'It's not Chillay, not Chalala, not a hard pill to swalla'…
As soon as I heard that lyric, Chaila had secured a permanent place on the playlist! Debut album – GO Bravely is a beautiful capsule on the Black Irish Female experience. Challenging bigoted views on race, gender and sexuality, listening to Chaila's work will literally leave your mind feeling invigorated and inspired. Based in Co Limerick, the 'grime poet's' pen game is exquisite and has earned her an integral place in the Irish Hip Hop scene.
BIIG PIIG
Minimalist songwriting, soul-tinged vocals, and hip-hop-inspired beats, Jess Smyth you have captured our attention.
Spending her childhood in both Spain and Ireland before moving permanently to London, Smyth's music journey is an eccentric one, to say the least. Her moniker – Biig Piig is a product of a pizza menu whilst a drunken Xmas party freestyle is what led her to discover a love for rapping and singing. Fast forward to now, Smyth is a member of Nine8, a collaborative collective of DIY artists including LorenzoRSV and Lava La and has two successful solo EPs- Big Fan of the Sesh, Vol 1, and A World Without Snooze, Vol 2 – under her belt.
Kaé
Next to add to your watchlist is Balbriggan resident – Kaé.
A voice that can be described as ' dripping in silk', the young singer's arrival to the scene is an appreciated one. She warns us not to box her into just the R&B lane as she prefers to remain genreless. This was showcased on her EP Just Another Love Letter which ranged from mid-tempo Pop Soul Jams to Afro-swing dance bangers.
Debuting only last year, her feet have yet to settle into the industry but we look forward to watching her career progress.
Tolü Makay
If you want to get into a serious session of reflection and questioning, pop a Tolü Makay tune into your speakers and watch the tears fall.
Brought up in a Nigerian household on the shores of Offaly, Makay was first introduced to singing at the age of 8 when asked to join her local Redeem Church choir. Diverting from the gospel scene to the secular, Makay is quickly becoming a household name among the Irish Soul Alt scene. Tender lyricism paired with stellar vocals, Makay's music is like a vehicle that desires to take her listeners on a much-needed journey of self-awareness and growth.
(PS: she just released a brand new project called "Being" which you should definitely check out)
Soulé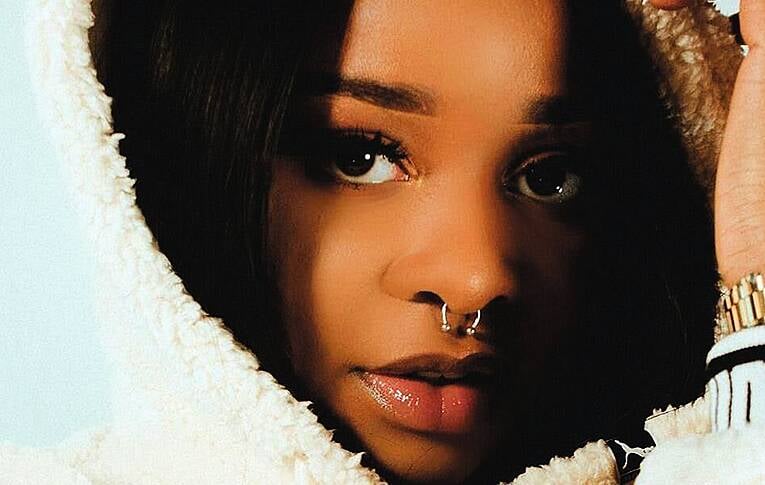 Soulé is another person to keep an eye on this year.
Over a million streams on her singles Troublemaker, What Do You Know and 66,808 monthly listeners, The Balbriggan native is vital to the New Wave Irish Pop scene. A three-time RTÉ Choice Music Song of the Year nominee, Soule stands alongside the likes of Hare Squead and Jafaris as a headliner of the Irish music scene.
Tomike
Dubliner Tomike effortlessly sticks out from the crowd.
Her distinctive sound cuts through various genres and those neo soul vocals will indubitably raise the goosebumps. Chosen to perform for former vice president of the United States – Miss Hilary Clinton in 2012, the 23-year-old has been grinding for years in the industry. Garnering an extensive amount of following not just in Ireland but also in the UK and US, her hard work has paid off! Regularly compared to her inspirations Erykah Badu, Jill Scott, Tomike's pairing of downtempo beats and starkly honest outlooks on love and vulnerability is refreshing.
EFÉ
From one dubliner to another, meet Efé.
Previously known as Anita, the 20-year-old has managed to become the name on every Irish Music journalist's lips. Her sound has affectionately been titled 'Bedroom soul' due to the fact that she indeed does record herself in her bedroom. Whilst we lazied about during quarantine, buying a whole array of new recording equipment, the singer recorded her latest single – Table for Two in her home. Spaced out beats, hazy synths, Efé's vocals float like clouds made of candy floss.
Alicia Raye
The queen of versatility, Alicia Raye is quickly becoming a household name among the Irish music scene.
Originally from Cameroon but residing in Drogheda, the DCU (Dublin City University) graduate first made a splash into the Music world in 2017. Skip to 2020 and she has amassed 21,074 monthly listeners and has secured management with UK production company – Hot Box Entertainment. Unapologetic lyrics and a chameleon nature when it comes to genres, Raye's experimental sound is certain to draw international attention.
Erica Cody
Declared an R&B Superstar by Redbull, Erica Cody is another one to keep on the radar.
A former student of Ireland's famous Billie Barry Stage School, Cody's first proper gig was as an opener for Wizkid at just 15! An offspring of a mother who blasts Foxy Brown from the speakers and a New Edition type Father, it was inevitable that the '90s would have some sort of impact on the young singer's sound. Whilst debut EP, Leonass, is an updated take on the R&B tones of the era, lyrically it is also a faithful reflection on everyday life in Dublin as a Black Irish woman.
April
Rounding our list is the talented, singer-songwriter April.
Describing her sound as "Dreamy Indie Pop", the Kildare native first EP – New Conditions has already received a number of positive reviews. Engaging themes such as Love and Pain, April is uniquely intimate in her songwriting to the point you can't help but feel like you have intruded into her train of thoughts when listening to her music. An ethereal voice and a talented ear for songwriting, the 21-year-old is one to watch in 2020!