#IMMusicMonday: In Conversation With Etienne Kubwabo
Imagine a place where you are the central character. In a universe, you have created to echo the people, injustices, and all-around experiences you have encountered while using your utmost creativity. You could be anything you want, even a superhero. That is exactly what Etienne Kubwabo did, creating Beats of War, Scotland's first Black superhero known as DJ ET in the comic.
His story and inspirations are heart-warming, motivating, and captivating, growing up in the Democratic Republic of the Congo and moving to Glasgow at 19 years old, he uses his comic to highlight the injustices of migration. DJ ET is a special character, not only is he saving his planet, but Etienne was determined to have a character that "stands for our people, but represents all people, I don't want to separate anyone. I want to change people's perception; we are all one human and connected by the universe."
The comic creator is also a filmmaker and DJ, he is determined to make a significant change in the creativity of this, and future generations to come. Gaining approval from thousands of fans, Etienne is not ready to stop there.
Here's what happened when we sat down with the creator via Zoom
Where did your love for comics first begin?
I think I really loved comics when I was a kid, I grew up in Congo. Obviously, we didn't have many facilities to access real comics or reading. But we had a TV, so we used to watch all the animated superhero films or series on TV; Spiderman, Superman, The Adventures of Tintin, Tom and Jerry. 
As I grew older, I was always curious about how these were filmed and how they told those stories. I remember when I watched TV, in the afternoon I used to get my brothers and sisters in the back of the house, and I would start acting out the scenes. So, I've always loved storytelling and reading so…
What was the first comic you read?
I read the Spiderman one, The Avengers but my favourite one is the Starboy one, you know with The Weeknd? Because it's different like I've seen everything else. There are always new writers, there's always something fresh out there, a new character that I have not seen or heard about… it always excites me.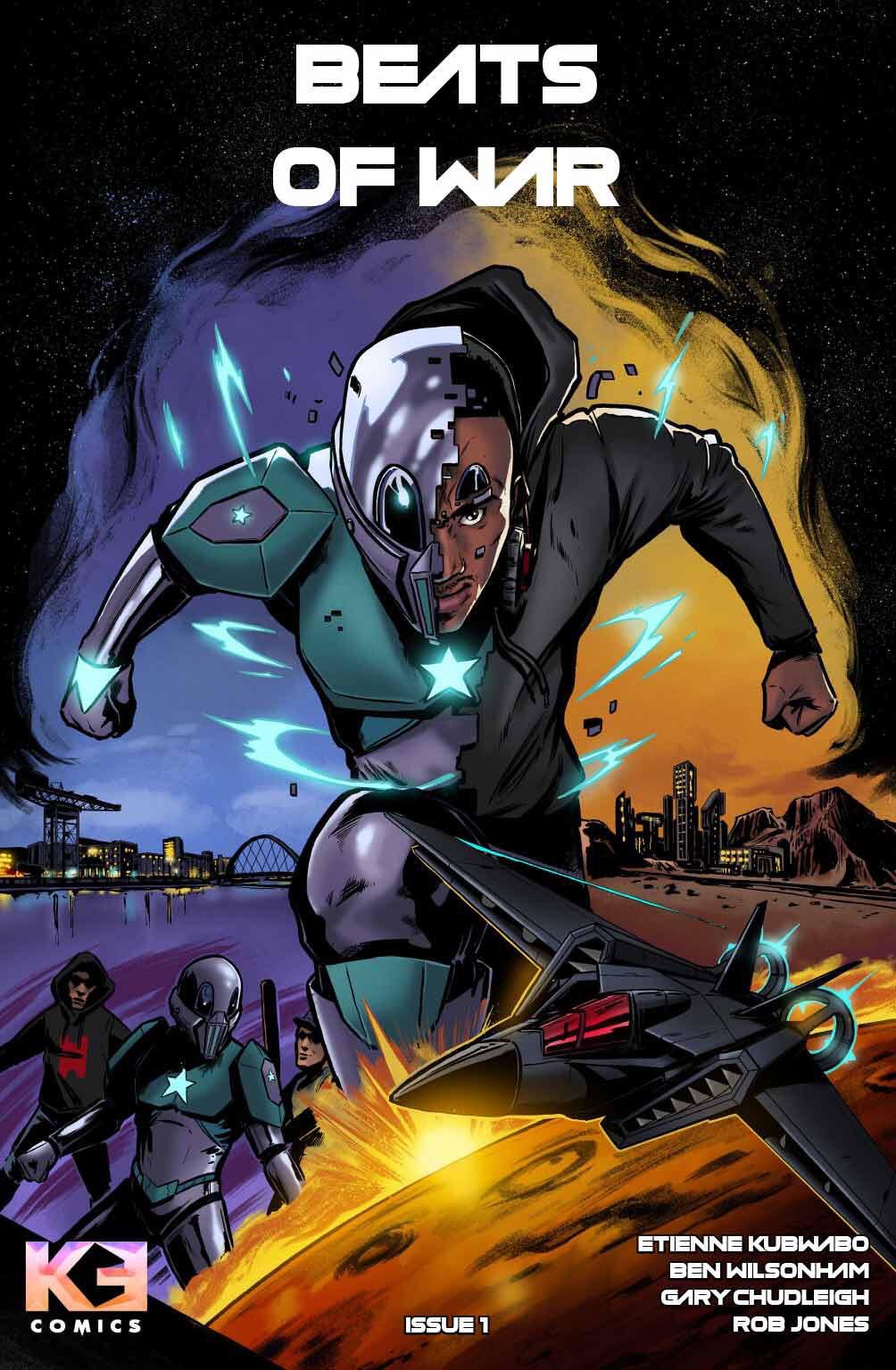 Tell us a little bit about Beats of War, how did you create the idea?
At 3 am one night I created the DJ character, that represented my life story, obviously fictional, but what I wanted the world to be. So, I had a mask made for this character and I would wear it to gigs when I used to DJ.
I feel like, when you come to the UK from another country you feel like maybe it is the promised land, you'll feel at home, connect and make new friends, then you face these challenges and racism, and you question if you belong. So, I created this superhero and this superhero will fight all these injustices.
I've seen my friends sometimes fight it and they've ended up with a criminal record or something, I used my imagination to tell a story of how I wished the world could be.
But it was not created properly until I saw Black Panther, I saw it and I was like "this is it". I got home and wrote like 30 pages in like 5 hours.
Would you say Black Panther is the superhero you were inspired by the most?
Yeah, I feel like that was the first time I saw a character that looked like me. It was a character that stood for something and gave hope to people.
How does the character of DJ ET reflect who you are?
The character comes from this planet that is being attacked and he comes to earth to search for answers. He's not just there to take but to give and serve the rest of humanity. And in return they're helping his planet, he's showing you have to give and receive to fight the injustices.
Personally, coming from a country that's affected by war, there is a way in which I visualise my country to be. So, it helped me have the balance of where I am and where I come from, it told it perfectly.
Hailing as Scotland's first black superhero, do you think the world of comics provides inclusivity?
When you look at the world of the Avengers, you see all these characters that come from a different setting, look at Wakanda in The Black Panther. These characters stand for everyone, they touch on things like terrorism, racism, the economy. Through superhero's that represent everyone, it's how you can change these things.
You run a workshop to create your superhero, how have you found it so far?
It has been really exciting; I remember the first one I attended. You'd be surprised, all kids love or want to be a superhero so that's why it works well for me, my story, and how I have added my friends and family to it, it empowers them. They sit there and create their world, the things they want to change, etc. It shows you how you can change the world with these kids. It was fantastic. They're really smart by the way!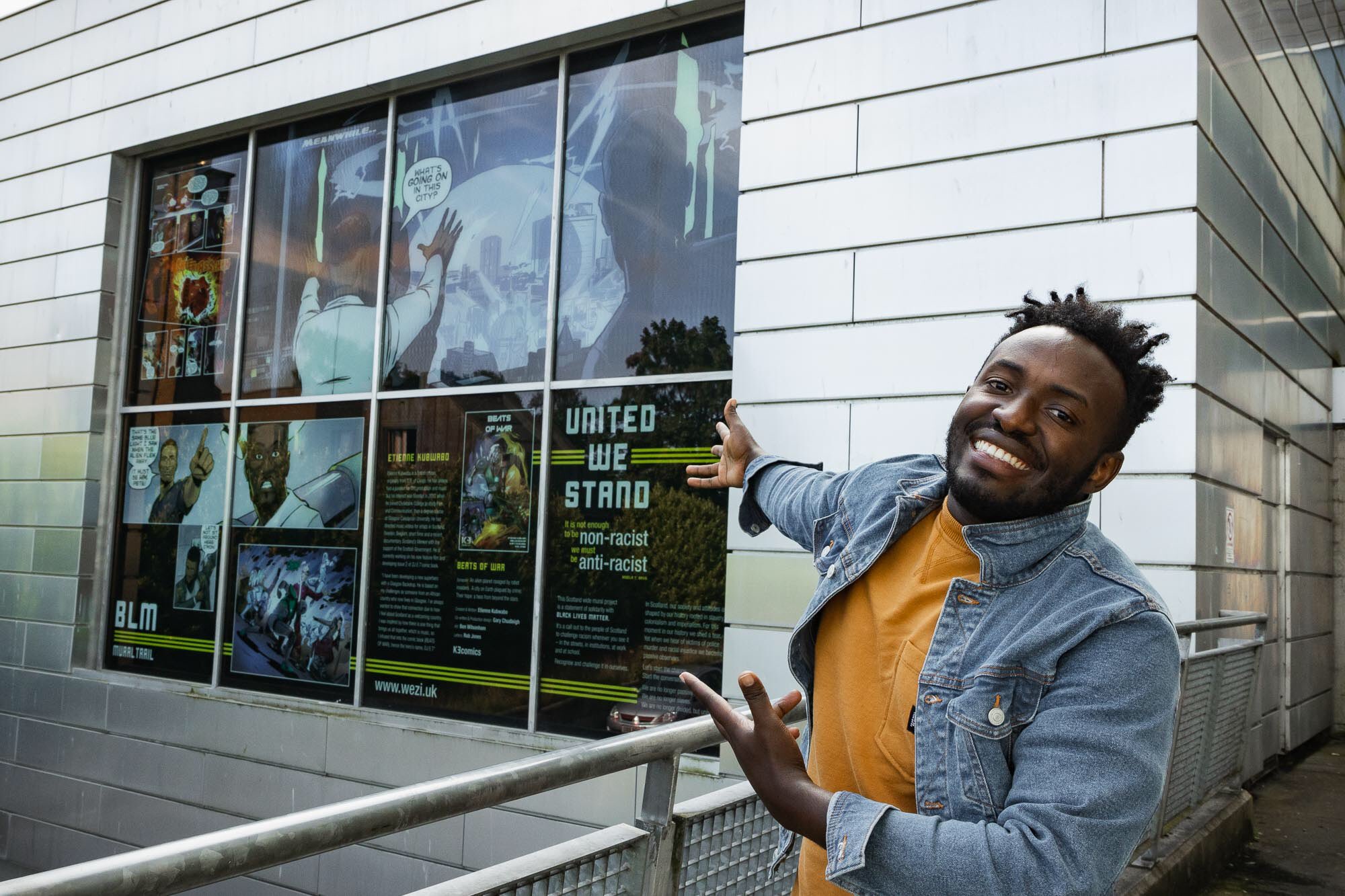 A lot of your work seems to be based on helping young people or spotlighting social issues, in terms of support in the industry, how has that been for you?
I think the community should be more responsible, they should have facilities for kids to create these ideas. For me, it was a struggle because I had to all my creative things and work an extra job to pay for what I wanted to do. So, I think these things should be widely available for kids in schools, libraries, etc, places where kids can just imagine and create together.
Where do you see your work heading to?
I believe in speaking things into existence, so I want to make a film or animation that inspires people. Like right now I'm already on issue ten of the comic. I see it as a big film watched by millions of people, who are inspired to create. Right now, I'm writing my second feature film! So, look out for that one, and also this year, there will be another two issues probably.
What I do is inspiring, I've had parents of kids who have read it, saying that their child loves it and is inspired by my character so it's amazing. Being in lockdown for kids is boring, the workshop keeps them active and constantly creative.